Profile
Name- Rasturn

[clause 24-g employee has no birth certificate, name is alias]

Nick name- Rast, lab rat
alias- Master Vogt, Pantyhose hit man

Age- 32  this is an estimation; I did not age well

Birthday- march 15
this date was given to me for reminding someone of this quote 'lean and hungry look'

Gender- Male
Eye color- dark green [very old eyes, almost have a vacant look to them]
Hair color- brown, what left of it is brown

Class- Demo man for RED

Sexuality- bisexual

Available- most of the time, food and sleep come first, then visiting hours I can work while you visit.

Skills- chemistry, cooking, sewing, Morse code, understand German (cannot speak it), I have managed to pick up playing the piano again.

Hometown- Philadelphia, home of brotherly love

Family- my mother was a crack whore, I was unplanned and she dumped me. I could track her down through my DNA but I want nothing to do with her.

Height- do you really need to know? 4'9"
Sign- this is irrelevant, Pisces

blood-type- O-

Weight- 100-120 pounds
History- Rasturn spent most of his young life stealing and living in the streets of Philadelphia.His name was a slur to the rat like tendencies and the fact that he would turn coat if it suited his survival. Rasturn's food was mostly garbage and anything he could catch, that may be why his is so short.

He was an indentured servant for a while, that didn't last too long. there was in a car crash or rather a car crashed into him and he was shipped off to a hospital.

He managed to capture the attention of Dr.Crux when he observed saw Rasturn at hospital, It took him a year to track him down. Crux cajoled rast into working for him, more like threaten. he's got a way with words.
Dr. Crux [sumfuifuturus] trained me in chemistry and other things, Rast learned how to read under his guidance.

After that the Doctor got Rasturn a contract with RED. The Dr, having the privilege of working on the re-spawn machine and reducing the mutation rate. Having quite enough clout to get his protege a steady job at RED. Since Rasturn held no degree in academic sense. Much less hire some unknown entity enjoys making bombs, gas cocktails, and gutting deplorable people.
Rasturn made the mistake of testing his own chemical on himself; and lost the use of his right arm. Most of his hand has been amputated, and wear a claw prosthetic. The lab claw is made of non reactive metal and he does not take it out of the lab. The battle claw is more durable and is made with the idea of a meat hook.

personality- I am the watcher, I hate groups, I hate getting attention from more then one person at a time. I have some rather low opinions of myself so that sometimes shows up, regrettably. I have a hard time understanding euphemisms so when they are used I get rather confused, and when I'm confused I don't talk.

I have been called aloof, and also been accused of being superior. I won't deny it some times I am, I dislike talking in general if it isn't about work. Though I should be more open since I am 'trying' to be more friendly.

current outpost- Coldfront

need anything else? here let me slit my abdomen for you so you can delve through my guts.
________________________________
looks-
Before his amputation, and in field.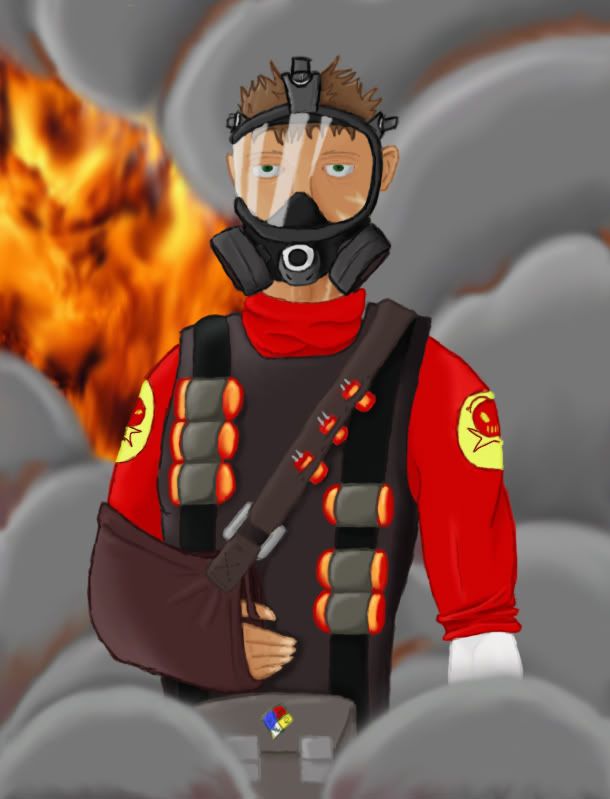 Winter uniform-


surprisingly mobile, he tends to favor the caber and sticky jumper when dressed like this.

likes- root beer, licorice, quiet, music, mountain men, rats, feeling safe, chemistry, being warm

dislikes- high shelves, the color yellow, being hungry, loud mouths, extreme heat, step stool snatchers, cats, excessive blood spill

[[for extra info search the tag Exposition, or background]]